[ad_1]

Update April 12, 2022 – A reporter from the Tillamook Headlight Herald reached out to Mike Sears again to get an update on the former Tillamook exchange student from Ukraine, Lena Lysenko. 
Lysenko, is currently safe and living in Germany, but is still facing a gauntlet of unanswered questions and lack of options in regards to her immigration status, said Sears.
"Her home city has been destroyed and although her apartment building has not yet been bombed, she is sure that everything she left behind has been looted by now," Sears wrote in an email update. 
Lysenko's sons have been placed in Polish and German schools and are having a difficult time making all of the adjustments in their lives. Lysenko's mother and husband are staying with family and are doing their best to avoid the fighting.
Sears said, "Our State Department is not granting visas for humanitarian relief, although some of the Ukrainians that have reached our southern border are allowed entry."
There are many unanswered questions and unknowns surrounding the potential option to immigrate to the United States. That, coupled with the mental stress of her current reality is taking a tole on Lysenko's mental state. 
"We are trying to contact our Senators and urge them to open the doors for immigration of Ukrainians to the USA, but the heat to get some action does not seem to be enough," said Sears. 
According to Susie Armitage for the Guardian, 
"Currently, some Ukrainians with family members in the US can be admitted as refugees under the Lautenberg program, which is open to certain religious minorities. Others can be sponsored by their relatives to receive immigrant visas, though they typically face extensive red tape." 
"I try to tell her to be patient and the right plan for her and her sons will present itself, and I have to tell myself the same thing," Sears added. 
(Updated March 2, 2022 with additional photos and video)
Thursday, February 24th noon – The Headlight Herald spoke to Lena Lysenko, a former Ukrainian exchange student at Nestucca High School, via FaceTime from her hiding place after fleeing the Russian invasion of Kyiv.
South Tillamook County resident Mike Sears has a very special tie to Ukraine. He hosted a Ukrainian exchange student, Lena Lysenko, in 2005 in his home for a year and a special bond was created, they consider each other family.
She is now caught in the middle of the Russian attacks on Ukraine's capital, Kyiv.
Lysenko, says she lives about 60 kilometers from the capital city where bombs are going off and shooting is happening as she spoke to us at the Headlight Herald office via FaceTime on Sears' phone on Thursday around noon, it was 10 p.m. Ukraine time.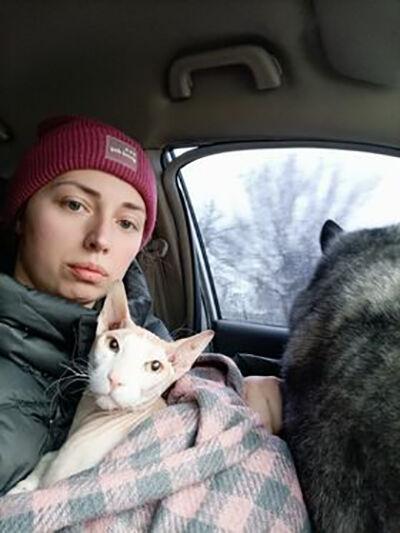 The former Nestucca exchange student, is worried. She doesn't know what her next move is going to be, and is trying to figure out where to find safety.
"We have bombing and shooting happening around us all the time," she said. "People are hiding and running to basement or hiding in bathtubs when they hear the sound of guns and bombs."
She said, even though she has heard cries of support from other countries, the only help is coming from the Ukraine army at this time.
"Only the Ukraine soldiers are fighting right now," she said. "Our airport was hit at 4 a.m. in the morning as was other strategic places."
Lysenko said they are grateful she and a friend was able to escape the city (Kyiv) but getting out of Ukraine may prove to be an issue.
"I was woken up at 5 a.m. and told to take kids and important documents and run," she said. "It's impossible to reach any banks or ATMs, but our cards are still working, stores are closed, so we can't buy food."
Lysenko said she has supplies ready to move when she said officials will allow that.
"All the countries around us say they support us, but no one is helping, people are dying right now," she said. "It's 10 p.m. and no one is asleep, they told us to keep our light off, so that's what we are doing."
She said when she is able to leave, she wants to go to Slovakia or Holland, but Ukraine is her home.
"We have to cross Kyiv, but it's restricted and too dangerous right now," she said. "Even if we go there, there is no confidence it will be safe, I have no idea, Ukraine is on fire."
She and her friends are ready to move when they can.
"We have no idea what to do," she said. "We are hoping for a special green corridor where they let people leave the country, but right now things are too dangerous."
Lena is also worried for her mother who is also about 60 kilometers away and also is hearing bombs and shooting, she says she has spoken to friends who are hiding in bathrooms and bathtubs, basement and underground.
"Right now we are in our shelter, we keep food, water and blankets underground in our basements, and we are ready in case we have to run and hide," Lysenko said. "We have heard from friends from all over the world and are so happy for all the prayers and words of support."
She warns that all of the information out there is fake. She said she has friends in Russia who called and told her that they want the invasion to stop, when they started to announce that publicly, special cops come and grab them and take them.
"People on both sides want this to stop," she said. "They are against this and are frightened of their government that they will be taken away."
She believes that at this point, not much help is on the way.
"It's my personal position that many have promised to help, but they are afraid because they have business interests," she said. "Nobody knows what to do, we are all afraid they will not stop."
Sears said in a phone interview Friday morning that when Lena came to Oregon 17 years ago to live with he and his wife Pam, after she got settled and got to know some other students, she came out of her shell and really flourished. It didn't take her long to adapt to a much more free country.
"She was very stern to begin with but after a little while she blossomed," Sears said. "And she's taken that with her into her adult life."
Lysenko was selected by to be a part of the program because she tested in the top two out of 600 other students at the time. Mike and his wife had hosted other exchange students, but didn't have the great experience they had with Lysenko. Mike said he's even visited Lena in Ukraine and keeps in contact with her all the time.
"As long as there is internet available, I'll be able to hear from her and contact her," he said.
Sears may set up a Go-Fund-Me site, but is waiting until he is sure he can even wire money to her.   
Lena said that she misses her time in Tillamook County and still thinks of this as her home. She only hopes she will be able to see it again sometime.  
"It's my home, I love Oregon," she said. "My Dad's home is my home, my heart is there my dearest person is there, my Dad." 


[ad_2]

Source link