[ad_1]

From its spacious exercise science laboratory to its shining food science test kitchen, Central Washington University's new Health Sciences Building houses a buffet of research opportunities for student and staff. Some have already taken a taste.
The university will hold a grand opening and tours of the building Friday, April 29, 2022, but students and staff have been in the building for a few weeks already.
Its opening marks the completion of CWU's $300 million Health Sciences Neighborhood, a decadeslong project that included work on six buildings, according to CWU Director of Strategic Communications Dawn Alford.
The 80,000-square-foot building is a big change from the spread-out classrooms where courses used to be held, said assistant professor Robert Pritchett.
"It's created a great sense of community with our majors in the building," he said.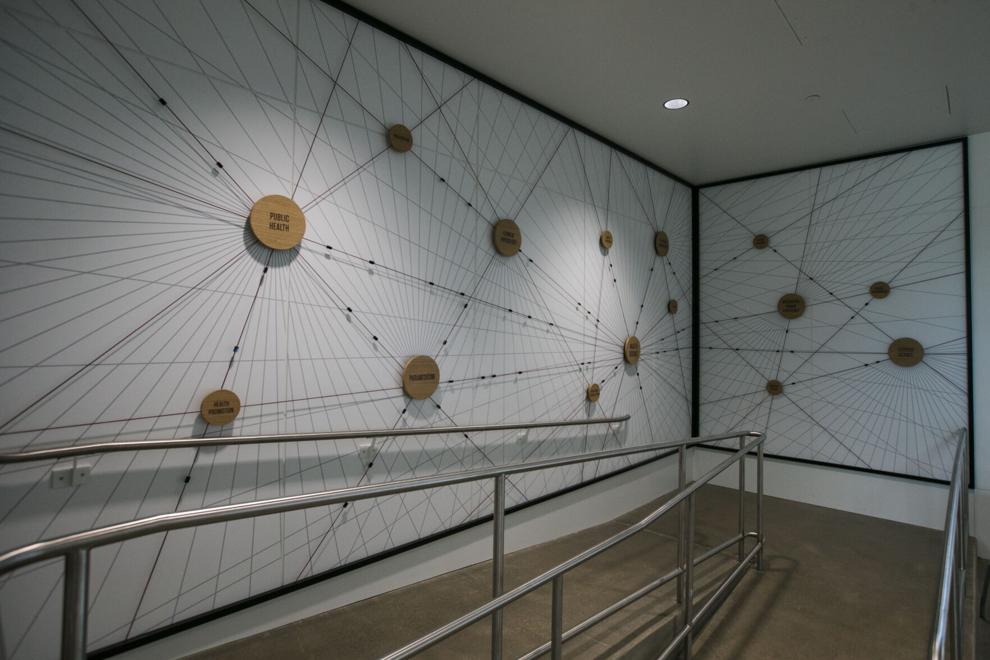 New facilities
The Health Sciences Building features laboratories and classrooms for students and staff studying physiology, paramedicine, exercise science, public health and food science and nutrition.
The total cost of the new facility was about $60 million, with $8 million of that spent on furnishings and equipment, said.
Its research spaces are like a playground for students and staff, filled with advanced machinery.
Karen Roemer, associate professor of biometrics, used to work in a temporary lab that could accommodate only two force plates, which are integral pieces of floor equipment used to study movement. It made conducting studies difficult, as participants had little space to move.
The new room where she teaches in is a large, mostly open space. It will have 16 force plates, although their arrival was delayed, as well as two types of cameras capable of capturing all aspects of motion.
"We can do much more with the new equipment," she said. "In the old lab you were quite confined with space. Here, we can actually have a nice run-up, high velocity movements, just big, whole body movements."
She and her fellow researchers plan to study athletes from CWU this summer, she said.
Colin Nash is a firefighter with East Pierce Fire and Rescue and an instructor in the emergency medical services and Paramedicine program. In EMS classes, students learn life-saving skills, like how to perform amputations, treat gunshot wounds, take vital signs and load patients into ambulances.
In a new classroom, there is a mock ambulance setup for students to use, complete with flashing lights. Outside the building, in a parking lot, students can practice using a real ambulance.
"We used to have to run our scenarios in the hallway," Nash said. "And people would be walking through, walking to their classes and we'd be in their way. Now we have our own area."
Integrative human physiology graduate student Jessy Moore has spent much time in the school's anatomy lab, working on human cadavers for his research.
He said the lab used to be housed in a cramped space with little lighting, which made the fine work of dissection difficult. It has since moved to the second floor of the Health Sciences Building, complete with windows and high-definition cameras. The open space allows for more room around the cadavers and has much better ventilation.
"It used to be a lot more potent," he said.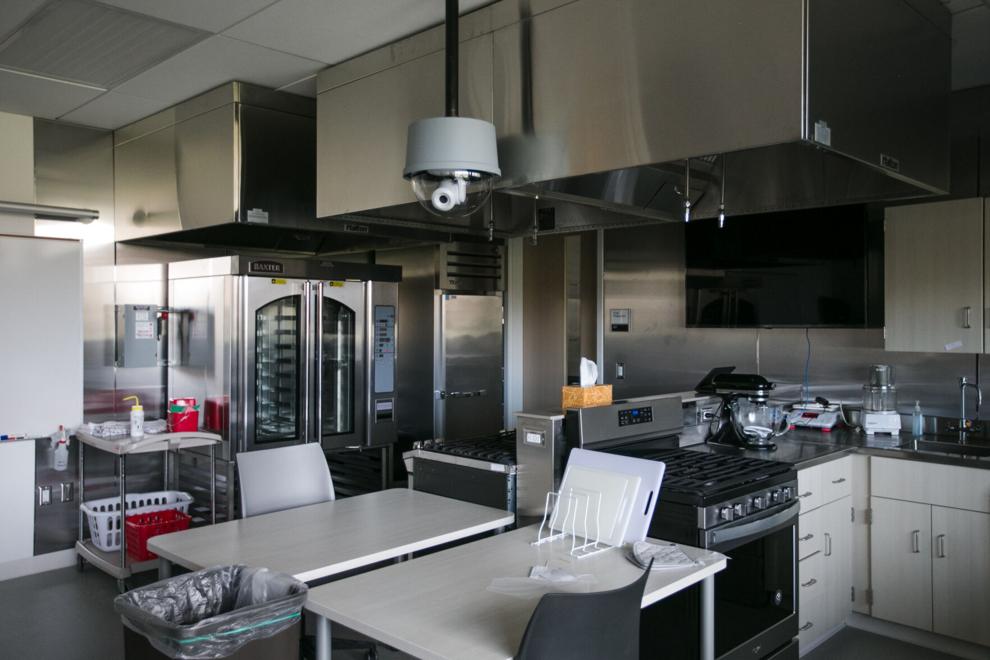 All in one space
Chicena Mortimer, an integrative human physiology graduate student who went to CWU for undergraduate work, said classes for health sciences students used to be spread out among several buildings.
"Now we're all kind of in the same big family space," she said.
She said now, it is easier to connect with her fellow students. Undergraduate students have come up to her in the building to ask all sorts of questions and she sees students hanging out in the new study areas all the time.
Assistant professor Kelly Pritchett said she also noticed more students taking advantage of the new building's study areas.
"I think there's a greater student presence," she said.
Health Sciences Department Chair Ethan Bergman emphasized the importance of interprofessional education, where scientists in related practices collaborate and share ideas with one another. Medical students and physical therapy students and nutrition students will likely interact in their professional lives. This lays the groundwork for that, Bergman said. It's much more natural when faculty and students are constantly seeing each other in the hallways.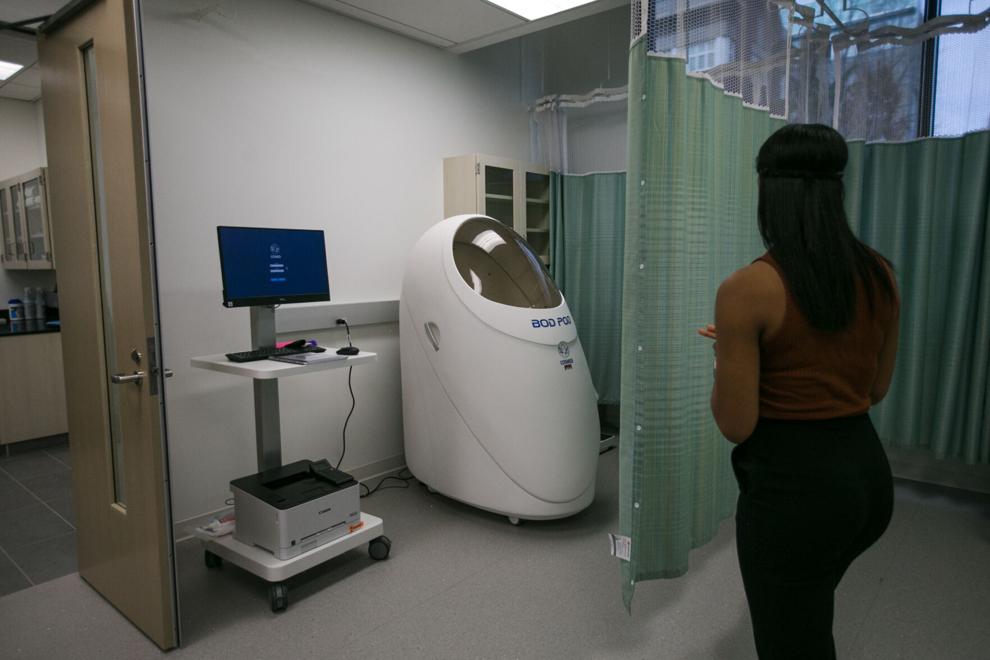 Science Neighborhood
The building is the final part of CWU's $300 million Science Neighborhood, a project that started in 1998, Alford said. It included construction or renovations on six buildings: Science, Dean, Hogue, Discovery, Samuelson and Health Sciences.
James Gaudino was president of CWU from 2009 to summer 2021. During his tenure, he oversaw much of the Science Neighborhood construction, though the plan was in motion earlier.
He said the push for an investment in the sciences came from students and the economic outlook of Washington state. Science, technology and health care help drive the economy and provide job opportunities for graduates.
"But our facilities were lagging behind," he said. "We wanted to give our students really a-state-of-the-art learning environment, the best that we know how to build, and money could buy."
Bergman said while CWU has produced graduates in fields like paramedicine and nutrition, historically it has not been a major player in producing health care workers for Washington. But it is working toward building up.
"We're trying to really nurture that sort of thing, using this building as kind of a way to get that going and emphasize that," he said.
The new Health Sciences Building will have its grand opening Friday at 11:15 a.m. and students will lead tours in the afternoon.
The university will also break ground Friday on the $60 million Health Education Project, which will transform Nicholson Pavilion into a space for physical education teaching, physical activities, sport management and dance.
[ad_2]

Source link